As we start this post, it's just after Labor Day, so we've put away our white shoes--and begun a new season of concerts and workshops. (Big love to Matt Wilson and Honey & Salt! And to the Dayna Stephens Quartet featuring Billy Childs! Next up: John Ellis and Double-Wide on November 10th.) And even though we posted the first edition of this update before summer was officially over on September 21st, we thought it was time for an autumnal edition of the news.
The saddest event we have to report is the death of guitarist
John Abercrombie
on August 22. Our deep condolences to his family, friends, and fellow musicians.
Here are remembrances from:
In happier news: Eureka-born bassist Trevor Dunn (Nels Cline Singers, Endangered Blood) completed a prestigious weeklong residency at John Zorn's soon-to-be-former East Village mecca for new music,
The Stone
. (It's moving across town to The New School.)
The New Yorker
commented: "Quiet as it's kept, except among the freethinking musicians who depend on his imaginative anddaring playing, the bassist Dunn has been an M.V.P. for both new-jazz and experimental-rock outfits for some four decades now. . . ."
Meanwhile, pianist Fred Hersch spoke with
Fresh Air
's Terry Gross about his new memoir,
Good Things Happen Slowly
and his new solo album,
Open Book:
Hersch is everywhere these days: read
Peter Hum's review
of a rare performance of Hersch's Walt Whitman song cycle
Leaves of Grass
at Lincoln Center. Elsewhere, at
PopMatters
, to be exact,
Andy Jurk reviews a new album
on ECM,
Gnosis
, by young pianist David Virelles (heard in Arcata in 2011 with the David Binney Quartet). Here's a taste of that album:
At NPR Music,
Nate Chinen talks
to drummer (and composer of the soundtrack to
Birdman
) Antonio Sanchez about his new album
Bad Hombre.
The story includes a streaming track from the album. Sanchez was also guest DJ on a recent edition of NPR's
Alt.Latino podcast
, and he's on the cover the drummer-centric November issue of
Jazz Times
.
Meanwhile, NPR Music's "
First Listen
" recently streamed Rudresh Mahanthappa's new album,
Agrima
(with his "Indo-Pak Coalition," featuring Rez Abbasi and Dan Weiss, RJA veterans all) in its entirety, ahead of its mid-October release. Not coincidentally, Mahanthappa is on the cover of the
November DownBeat
, which also includes interviews with
Rez Abbasi
and
Linda May Han Oh
. Abbasi, too, has a new album,
Unfiltered Universe
, with Iyer, Mahanthappa, Weiss, and others:
And Iyer, whose new sextet album
Far From Over
appeared late this summer to rave reviews (see our previous post), was the focus of the latest
Jazz Night in America
on NPR, which featured performances from the recent Ojai festival that Iyer directed.
Cécile McLorin Salvant, a big winner in this year's
DownBeat
Critics Poll (see our last post once again), was the subject of a great cover story by Phillip Lutz, "
True Character
," in the October issue of
DownBeat.
Another RJA genius: drummer-percussionist/composer/polymath Tyshawn Sorey (Myra Melford's Snowy Egret) has been named a 2017 MacArthur Fellow. Coverage at
Jazz Times
and
NPR
, and a profile (including a video) at the
MacArthur Foundation
.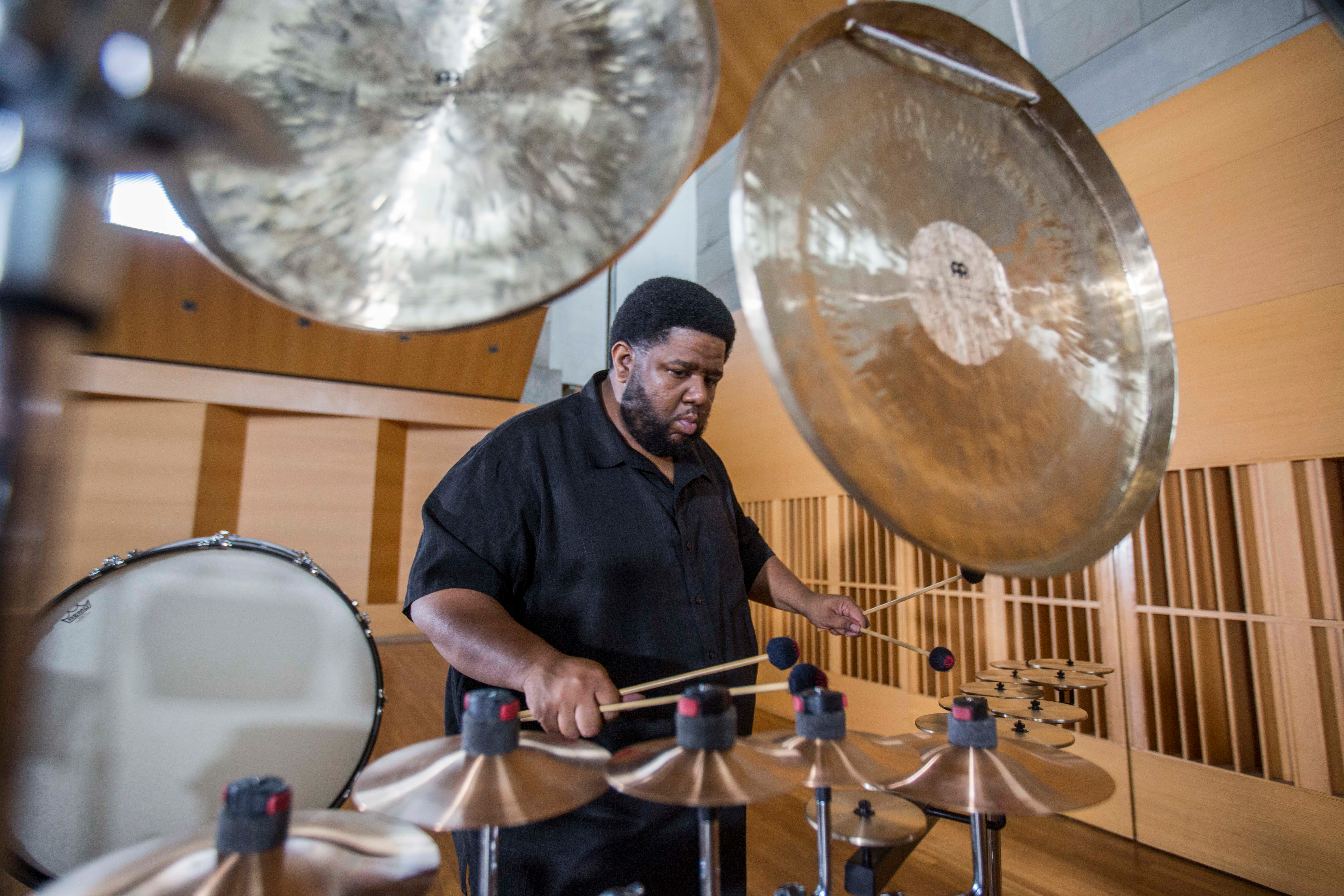 Around 100 pages of the latest issue of the journal
Music & Literature
are devoted to saxophonist Mark Turner (of the trio Fly). There are appreciations from twenty fellow musicians, an interview with writer and critic Ben Ratliff, and transcriptions of Turner's music. You can purchase it
at the journal's website
.
Finally, elsewhere at NPR, you can listen to a rebroadcast of an appearance by trumpeter Dave Douglas on
Marian McPartland's
Piano Jazz
way back in 2000--a publicity warm-up, perhaps, for the release of Douglas's new album (with Anwar Marshall and The Westerlies),
Little Giant, Still Life
:
(You can also watch a
series of interviews
about the album with Dave, The Westerlies, and drummer Anwar Marshall at the Greenleaf Music website.)